Posted by
Lucina
, in
Smash Files
Sep 14 2013 · 339 views
Smash Files 13 – Unique Movesets
Pit stop: thank you to Burnmad for helping me with this post a bit.
During interviews relating to the upcoming Super Smash Bros. for Nintendo 3DS/Wii U, Sakurai has mentioned only wanting to include new characters if they can bring unique movesets and play styles with them (Mega Man was one character he highlighted for this). While it did not make me think much at the time, a recent conversation I had with Burnmad about the upcoming game did, and I decided I'd share my thoughts with you guys. Which characters does Nintendo have that could provide a unique experience to the game?
The first character that came to my mind was, of course, Paper Mario – my favourite series with two of my favourite games, and different enough from Mario (more than Toon Link was from Link, at any rate) that I believe he would warrant a character as-is. But what could Paper Mario bring to the table that is unique? First off, his hammer attack. Instead of punches and kicks as his standard attacks, Paper Mario would use his good old fashioned hammer. The different directions and charge attacks could echo the hammer badges you could use from the first two games. His special attacks could involve the use of different partners – his down special could be Admiral Bobbery, his side special could be firing Koops, his up special could be using Parakarry, his dodge could involve Lady Bow making him vanish for a second… and so on. There are also a wide range of different final smashes Paper Mario could have; his humongous 8-Bit form from Super Paper Mario to the combined usage of all the Star Spirits. Possible taunts could include Goombella giving snippets of information about the other fighters currently on the stage, or turning into a paper boat, or even flipping out of view for a moment.
Next up is Krystal from the Star Fox series. One of the most requested characters for Brawl, Krystal's abilities could help to provide a unique experience. Her staff alone would separate her from the other three Star Fox characters already in the series. Her standard attacks could all involve different uses of the staff, while her special attacks could include various elemental based strikes, from fireballs to frost. Elements from the dinosaur planet in Star Fox Adventures could be included in her attacks, and once more the possibilities of her final smash are endless. I was extremely disappointed to see all three Star Fox characters in Brawl use a Landmaster, and I hope that changes for this installment. One possible final smash could involve the Skyrunner, with Krystal riding it around the battle for a brief time and breathing fire balls. 
Another character that could provide a brand new style of play? Well, there are two here – Yarn Kirby and Prince Fluff. Since we already have Kirby, and Prince Fluff already exists as a very similar character in terms of structure, I'd put him as more likely to appear in the game. The sole fact that he is made out of yarn opens up a wide range of possibilities for his attacks. The yarn whip could be used for most of his standard attacks, and transformations could be used as his special attacks, such as the top being his side special, the rocket ship being his up special and the yarn weight being his down special. Prince Fluff's final smash could involve a transformation into the tankbot, with the boxing globe added on for extra attack power. 
Midna, the twilight princess for which The Legend of Zelda: Twilight Princess is named, would also add a lot to the Smash roster, especially if used as a character in conjunction with Wolf Link. Standard attacks would involve the lunging and biting attacks from the Wolf Link areas in Twilight Princess, while her special attacks could include Midna herself using various twilight abilities to attack other players, or to get herself out of danger. Her final smash could involve creating a ring around a certain area of the stage, and then one by one attacking each player within the ring and dealing massive amounts of damage.
Finally, I'll talk a little about the Eggplant Wizard. With his, er, unique attacks in the Kid Icarus series, there is a lot to work with in regards to the Eggplant Wizard. Melee attacks with his staff could be his standards, with the occasional throwable eggplant item being spawned by an attack. His regular special would involve him throwing an eggplant in an arc through the air, his side special be an eggplant whirlwind of some sort, and his final smash would turn every other player on screen into an eggplant. Eggplant players would range from small to big depending on the size of their character, and they would be unable to attack during the time frame that the Eggplant Wizard's final smash occurs. I'll be honest: if the Eggplant Wizard shows up in the new installment, he might become my new main character.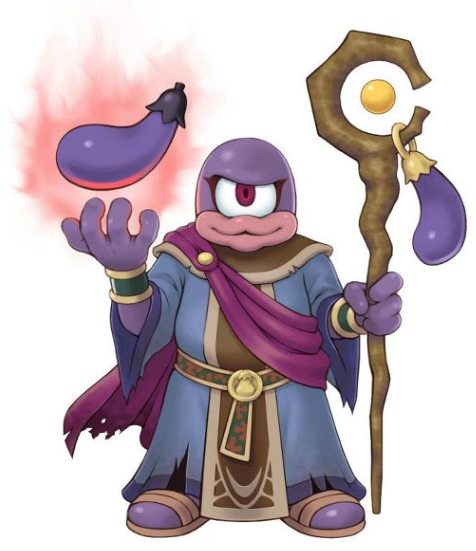 There you have it – five first party characters that could bring extremely unique and versatile movesets with them, should Nintendo choose to include them. I'm not certain that any of these five (apart from possibly the Eggplant Wizard) have a very high chance of making it in, but a part of me will die inside if Paper Mario is not added into the final game.