0
Something Will Come to Me
Posted by
Nuile the Paracosmic Tulpa
, in
Cinephilism
Aug 24 2012 · 305 views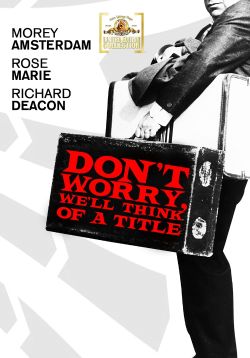 That's Buddy, Sally and Mel from The Dick Van Dyke Show, not to mention a bit appearance by Alan Brady. Danny Thomas also appears, and later Granny from The Beverly Hillbillies.
Okay, but how was the movie? Without giving anything away, it's about Charlie (Morey Amsterdam) and two female co-workers going into the book business, and getting mixed up in an espionage intrigue and a bank robbery.
Basically, this is what they did before animated talking-animal movies came into vogue, only better than that makes it sound.
It's replete with the brilliant humor of the time--in fact, I noticed three jokes from The Dick Van Dyke Show, probably all the Human Joke Machine's own--along with a not-so-brilliant humor that I think we can all agree should have stayed in the time.
It's not going to change your life, but it's work a watch, by all means, and a must-see for any Dick Van Dyke fan.
Sincerely, Nuile: Lunatic Wordsmith