1
The Video Games Of New York Comic-Con
NYCC
Video Games
Mario
Zelda
Heroes of Ruin
Pokemon
Kirby
On Friday, James and I started off and went to one booth. Seeing as I am a huge Nintendo fan we headed there first. I shall list off the games as we played them. Here you can see
Fawful playing Skyward Sword
.
Super Mario 3D Land
Felt like a classic Mario game
You hold a button to run
3D effect makes it easier to judge distance
Tanooki suit worked well, flutter jumping felt like it does with Yoshi
Fire Flower works like it does in New Super Mario Bros. series, there is no timer
Boom Boom was actually pretty easy
Mario Kart 7
Played three courses, two laps each.
Track 1, was a mountainous course with pipes and incoming boulders, it also had a cave and a forest.
Got to try out the hang glider, with which you can control in the air to change where you land.
Track 2, was an underwater course with Clampies and Cheep-Cheeps. You drive underwater in this one with the propeller; underwater driving is slow, yet still natural.
Track 3, is the Donkey Kong Country Return's course filled with the baddies of that game.
The 3D effect really brought it to life, it made it easier to dodge bananas in the road.
Blooper is more annoying as the ink comes right at you because of the 3D.
Pokemon Rumble Blast
Pretty much like the WiiWare version
Cute in an action RPG type way, not turn based
Didn't spend as much time with this one as I would have liked too, it does seem interesting.
Heroes of Ruin
Played as the Gunslinger and Vindicator
Prefered the short range melee of Mr. Vind.
The Gunslinger didn't seem as accurate, and is a bit harder to use
Action RPG works well
It has potions for health and magic which can be used with L and R buttons
Game overall seemed like a really good action RPG
The gameplay was fun and I look forward to seeing more from the game
Kirby's Return to Dreamland
Played with a full team
I was Kirby and James was Metaknight
King Dedede and Waddle Dee were drop in and drop out, which works instantly.
Kirby has many attacks per move.
Super attacks should be used when in certain areas with blocks they will destroy.
These usually lead to miniboss areas which help you get gears
Metaknight controlled pretty good, really powerful.
Characters get dragged after Kirby if they fall behind.
Whispy Woods was really easy with four players.
Last but not least....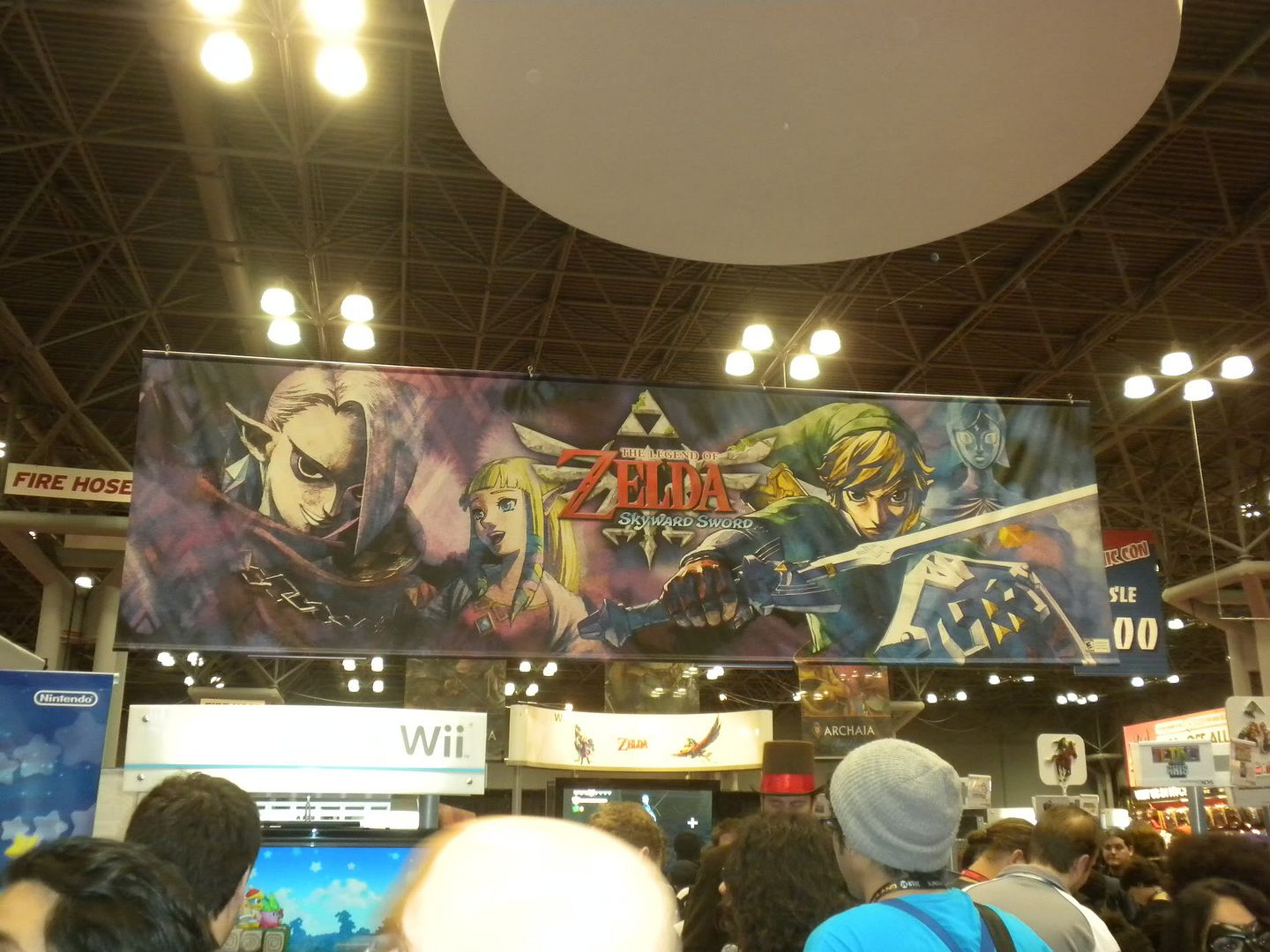 The Legend of Zelda: Skyward Sword
I am left handed, used the Wiimote in my right hand and nunchuk in my left
It actually felt very natural and I did a pretty good job.
Played the demo twice, unlike the others
First time playing the game I took on Lord Ghirahim
Lord Ghirahim moves fast and can catch your sword, he catches it based on the angle of it
You need to trick him, swing in a direction he isn't expecting
After a few hits he uses his sword
He moves very fast and if you shield by shaking the nunchuk you can throw him off balance
Shielding is important, other people were losing heart after heart when they did not shield
Swordplay feels very realistic
Second demo was the dungeon
You need you use the beetle to hit a crystal, which will open a door
Beetle is controlled by tilting the Wiimote, feels really natural.
You battle a Stalfos
Stalfos wield two swords, which are used both offensively and defensively.
When a Stalfos holds both swords upright, Link must strike vertically in between them; when it holds its swords sideways, Link must strike horizontally. Stalfos can also hold their two swords perpendicularly, so that Link must strike from a certain angle.
Once you beat it you get the upgraded beetle, which Fi explains to you.
It can pick items up now.
You need to send it through a hole in the wall to hit that same switch
When outside the beetle has to be sent into a nook in the wall where you must avoid Deku Babas to hit another red switch
Next room has a Skulltula attack, upward slash puts it on its back legs, stabbing motions can finish it
Continuing on you find another room where the beetle must be used to hit another switch which raises water
Swimming is fluid from the few seconds I did it
Battle another Skulltula which was on a web
Next room you must climb an ivy wall, shoot down a block and push it to the lower level
You must position it perfectly so that when you stand on it three eyes open up, so that you may make them dizzy with your sword
The prize is a small key!
Got back to the main room and the demo timed out
James played the Bird chasing ceremony
Must capture the bird with the statue
First time you almost capture it, cutscene plays and you start having eggs thrown at you by the other riders
Must capture bird while dodging eggs
Eggs slow you and cause a loss in altitude
Shaking downwards allows you to gain altitude
You can make the bird fly slightly faster, this is similar to the carrots in Ocarina of Time
You can use it three times and then it recharges, alternatively it will recharge on its own
Tomorrow I shall add the details about the special guest we saw as well as a Nintendo employee's reaction to Fawful.