1
E3 Thoughts
Posted by
Kohaku
, in
Video Games
Jun 08 2012 · 532 views
E3
Microsoft
Nintendo
Sony
So, now that all of the Electronic Entertainment Expo press conferences are over I figure I will give my final thoughts on them. They are graded in the order that they took place. And, it is totally unbaised. Yup. No bias here.
Microsoft:
Halo could be fun, but it is being done by a new studio so it could still suck

Fable looks interesting
Xbox is not the number one selling console, like they said.

Splinter Cell looks like Metal Gear Solid

Kinect, Kinect, Kinect

Gears of War looks exactly the same

Tomb Raider, what the heck have they done to Lara?

Resident Evil looks very samey

Dance Central, do we want more dancing games?

Another Call of Duty, we really don't need more of these.

Bing

Smartglass looks to be interesting, but I have a lot of issues with how it will be executed

Nike

Usher
Final Grade:
D
EA:
Dead Space looks kinda fun with the Co-op

SimCity is always welcome
More Sports game rehashes

Battlefield 3 will take more money. DLC

Still not sure on Star Wars

Medal of Honor looks exactly like every other shooter we've seen

UFC, I've never cared for these games/sports

Not sure on Crysis
Final Grade:
F-
Ubisoft:
Avengers has potential to be an awesome superhero game. Still need to see more.

Rayman Legends looks incredible

ZombiU has potential to be a fun Zombie game

A ton of Wii U games

Assassin's Creed 3 looks amazing

Watch Dogs looks incredible and I love the concept of it
Just Dance 4, See above on dancing games.

Far Cry, looks good, but do we need another shooter? And isn't this the tenth game with a bow and arrow?

Splinter Cell
Final Grade:
B
Sony:
Beyond: Two Souls looks interesting

More Assassin's Creed 3

God of War looks crazy

Last of Us looks kinda cool
Super Sony Bros. More PlayStation All-Stars Battle Royale, also coming to Vita

Seriously they even tagged it with Super Smash Bros.

Bribing Journalists with a year of PlayStation Plus

Wonderbook

Book of Spells, this has made even some diehard Harry Potter fans sad. Also, the demo failed.

I still hate quicktime events

WONDERBOOK
Final Grade:
F-
Nintendo:
Miiverse looks kinda interesting.

Black Wii U looks nice

Pikmin 3 looks adorable

Multiple video services

Use the Wii U Gamepad as a TV remote

New Super Mario Bros. U for Wii U and New Super Mario Bros. 2 for the 3DS

Paper Mario: Sticker Star and Luigi's Mansion: Dark Moon for 3DS (Give me Paper Mario!)

Some good games getting ported, like Batman Arkham City and Assassin's Creed 3

Scribblenauts looks like a ton of fun!

Wii Fit U... I know I could use that one XD

Castlevania looks like fun

Lego City Undercover looks like a different take on the Lego games, it reminds me of Lego Island. Which is a VERY good thing.

Non-Specific Action Figure
Too much Mario?

Not sure on Nintendo Land

No huge reveals during the conferences

Playing it a little too safe

Where is my Animal Crossing?

WHERE ARE THE GAMES NINTENDO?

They showed a lot of stuff, nothing that really made me go "Wow that is amazing!"
Final Grade:
C+
So... overall no one really had anything new and amazing. Except for maybe Watch Dogs. A sad and disappointing E3.
Best Part of E3 was: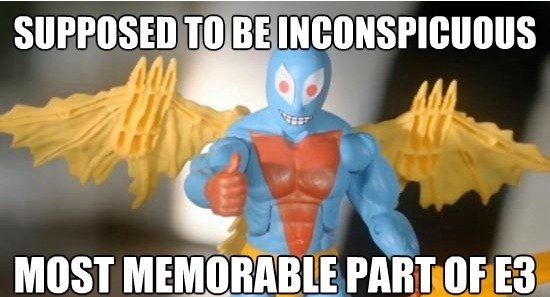 Although... Even though Wreck-It Ralph wasn't showed at E3 it is another awesomely memorable gaming thing to have come out this week. Seriously, you should go watch that trailer now.