160
Bio of a BZP Admin
Welcome To My Blog
I'm glad to see you made the trip intact.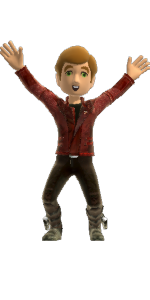 Name:
Andrew
Alias:
Black Six
Join Date:
August 2, 2001
Staff Since:
August 6, 2001
Position:
BZPower Administrator
Forums Currently Moderated:
Bionicle RPG, LEGO RPG, News Discussion
Forums Previously Moderated:
Fan-Created Games, Promotions, Marketplace Banter, Storyline & Theories, Buy/Sell/Trade, probably some others
Other Responsibilities:
Making sure news is posted, keeping the forums running smoothly, learning the ways of server-burping.
Video Games!
Most Played Games (as of late):
Marvel Avengers Academy
Destiny
Pokemon Shuffle
Whatever I'm streaming on Twitch
Currently Playing:
Comment Approval
Please note, due to people posting inappropriate comments in my blog in the past, I have chosen to approve all comments before they become publicly visible.
0 user(s) viewing
0 members, 0 guests, 0 anonymous users
BZPower Prize Status
Contest:
RPG Contest #18 -
On hold
Library Summer Olympics -
On hold
RPG Contest #19 -
On hold
RPG Contest #20 -
On hold
BBC Contest #61 -
Sorted
RPG Contest #21 -
On hold
BBC Contest #62 -
On hold
Short Stories Contest #8 -
On hold
RPG Contest #22 -
On hold
Comics Contest #1 -
On hold
Key:
Shipped!
- Prizes are on their way!
Packaged
- Prizes have been boxed up.
Sorted
- Prizes have been separated from my stash and are ready to be packaged.
Pending
- Prizes are the next to be shipped.
On hold
- Prizes are waiting for other contest prizes to be shipped.
Archive