I've begun the task of compiling information on architecture, locales, and information regarding each Wahi of the BZPRPG's 2013 arc with the goal of creating a slew of illustrations serving as maps for the entirety of player locations.  This is a monumental task, but I've already made incredible progress with Po-Koro, and will be working on the final map in the next few days for the city of stone.  If you have a suggestion for a location to be incorporated, please feel free to leave it in a comment below.  As each illustration is completed I will add either a photo or a link (haven't decided yet) on this blog post, along with a quick list of the featured locations and some of the back information that went into the creation.  This is a project I've been planning for a very long time – ever since NBZP in 2011 to exact – and I look forward to putting the fantastic communal stories into ink and colors. 
Bionicle Architecture, a Historical Perspective
The hut is the quintessential matoran dwelling.  Built of various materials native to each region of the island where matoran settled, huts took the shape of semi-submerged poke-balls, the little button removed for a circular door.  Another circle in the roof served as both a window and consistent reason for flooding.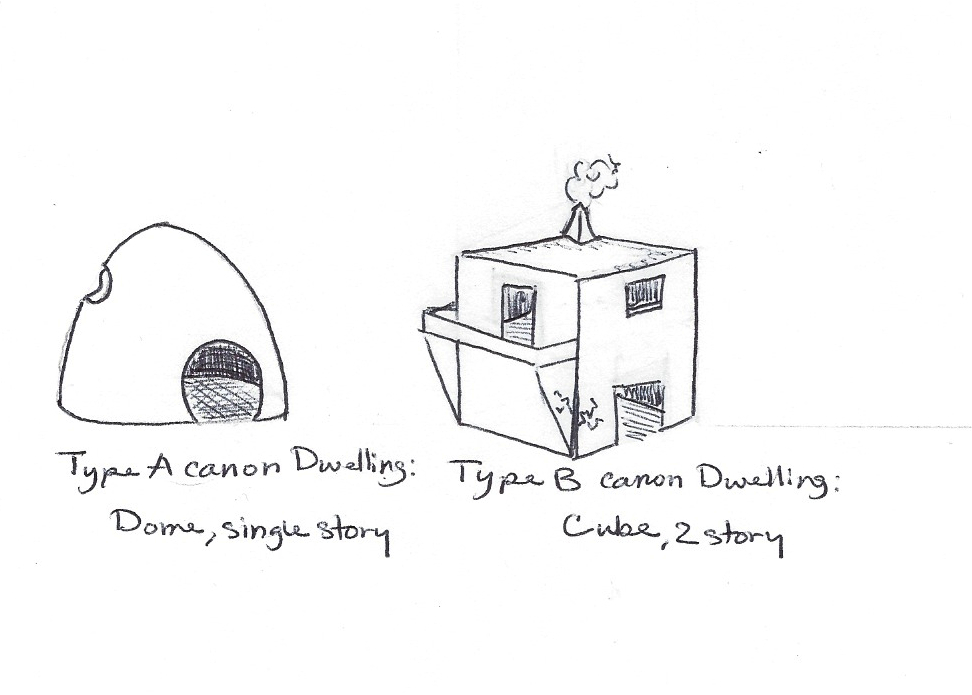 Later, after the fall of the mata and during the 100 years of waiting, they developed a new form of revolutionary architecture: the box.  Using a cube as the basic shape of construction, matoran architecture found a revolution in building ideals: windows were now placed on the sides of the home instead of the top, cutting down on flooding but increasing the chance of asphyxiation by the small cooking fires inside.  Doors and shutters were rare but not impossible to find. 
Po-Wahi
Po-Wahi has gone through a few radical changes during the course of the RPG, experiencing marked changes in architectural techniques, the destructions of raids and rahkshi, and the building of small centers of trade along the shore, namely Ostia and Forsi.  The first project I'm working on is a map of Po-Koro, drawn at an angle and looking down at the city of stone.  I'm using a rather piece of paper for this project, since working on a sheet of printer paper wouldn't have allowed me to do an entire Koro justice.  Hopefully I have a local printer nearby who'll be willing to scan the image when I'm done.  The project's diary is as such:
Tues, Nov. 19, 2013: Mathematical formula for roads and grid lines created.  y=1/2"n+1/8", with roads being 1/2" in width and blocks being twice a road. Created a small rough plan to work off of, and have gathered full information for the specific project.
Tues, Nov. 19, 2013: Had to restart the city footprint three times. Eventually I gave up on my formulas and winged it: turns out I do better without the maths.   
Tues, Nov. 19, 2013: Canyons drawn in proper scale, along with the through-roads.  Erased intersecting lines so blocks and roads are now clear.  I decided to leave the four guide lines I constructed for now – I have no doubt they'll be useful when drawing the three dimensional buildings.
Tues, Nov. 19th, 2013: Designing the model concepts for residential and commercial buildings.  Studying architectural sources for those buildings.
Wed, Nov. 20th, 2013: Made a small scale color palate test.  The product of which may be seen HERE.
Thursday, Nov. 28th, 2013: Two minute sketch-dump for three house styles from across the island.  
​
Thurs, 11/28, 2013: Penciled in the rough features for the Po-Koro Gate.