Hey, folks. I am just popping in really quick to share something that I randomly made in Inventor today, while waiting for Burn Notice to start. So here it is, folks.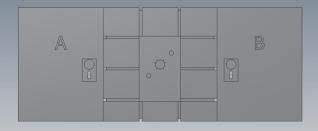 It is nothing too special, I know.
But I thought it did look kind of cool, so I thought I might as well share here since I am online and all. Oh, and here is an isometric view of it.
By the way, that symbol with two dots and the sun were originally going to be Three Virtues symbol. But since I could not get the curves right for the E loops, I ended up changing it to sun shape object with two dots on either side of it. Hm...I might change it back to Three Virtues, if I do end up going back to this model to add more.
And well, that's all I got for you today, folks. Actually no, it isn't. But considering that thing is work rambling (Which I have already done in two entries straight.), I thought it would be best to avoid the topic. To put it simply though, I had quite a busy day at work today, which is kind of surprisingly considering what week it is.
*tempted* Nope, like I say, I am avoiding that topic, so I will not be elaborating further. Apologize
s to those that might slightly been interested in past couple entries about work.
With that said, I am going to call this an entry. Thanks for taking the time to read this, folks. I'll see you all later.
EDITED: Oh, I forgot to say something before I go. I am currently very tempt to join this RPG.
Argh...But I don't think I have time to actually play in it though, even if I were to try and join.
Hm...I'll have to think about some more, I guess.
"I'm a heartbreaker...My name...Charles."