The Alolan Champion is an absolute madman
Entry posted by dotcom ·
1,121 views
I've been really inactive on this site lately. I haven't even visited for a couple of months. Now it's December, and that's weird. It feels weird, but I guess that's just life.
I got Pokemon Sun. I've been playing it. It's fun. It's been ages since I played a Pokemon game from the beginning, and it was a lot of fun. Helps that I think it was probably the best story the series has had thus far. Whole thing was really good. Enjoyed it a lot. Mechanically there's a lot of mixed feelings about this generation, but I definitely can't say the actual game wasn't enjoyable. My final team was a Primarina, midnight Lycanroc, Mareanie, Salazzle, Golisopod and of course Solgaleo. (Though of course that last one only joined my party very late in the game). First time actually using a team of six or less, so that too was fun. I've grown quite attached to this team.
I finished the game last weekend, so I've been working on finishing up the dex since then. I don't like doing things in half measures much, so I was going for a living dex, and I finally completed it tonight. The final catch to complete the dex was appropriately Necrozma.
And I caught it in a Beast Ball, because, as the title clearly states: a madman.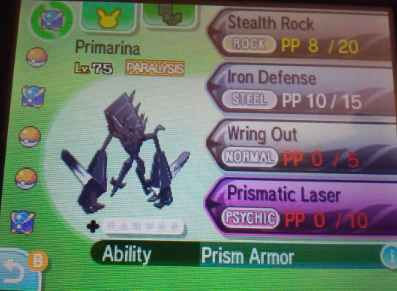 I also caught Solgaleo in one so that was fun.
A bunch of places had the Gen 6 games for really cheap last week with the sales, so I bought Omega Ruby. I'd been wanting to for the past, couple years, I guess, but being able to get it for 25 bucks finally made me do it. I have a lot of bred shinies I've been meaning to use, so I've been wanting to form my OR team out of those guys. Should be fun when I get around to it. Since I just finished Sun I don't know when I'm gonna want to start up OR, but I'll get to it sometime. Going back to HMs is gonna be hard, let me tell you.
Anyway, that's just been me and my pokeymans. Random post but whatever.
1