While the forums were down, I was still MOCing. I'm not good AT ALL at building large models (lack of parts and difficulties designing stable weight-support structures plague my work). But, what I lack in the large, I make up for in the medium and small. I designed my own Toa-size model, which has received a minor upgrade in the Downtime, along with a Matoran that I recently built an Exo-Matoran for - They'll be posted soon.

But they're not what this topic is about. This is for the Fleet, a dozen-strong flotilla of my not-so-famous fist-size starships. So, without further adieu, Let us begin.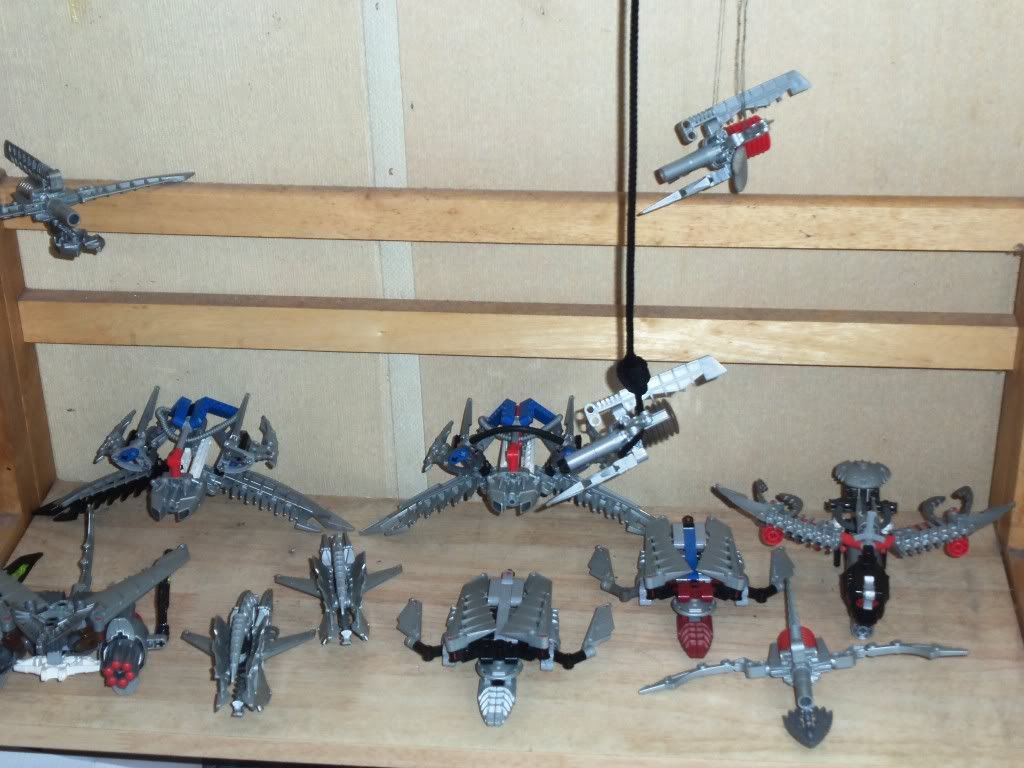 That's the Fleet. All of the Fleet. In that shot is 12 vessels. I've since built 3 more Ambush-class variants (the Chop Suey of the Fleet), but I don't have pictures of them. So, let's run down each ship type, shall we? All links lead to galleries of the ships in top, bottom, and side views.

Ambush class
Type: Attack Fighter.
Size: Varies with model.
Pieces: Generally around 8.
Number of the class: Currently 7.
Other notes: Most-produced vessel due to ease of construction.

Apogee class
Type: Interceptor.
Size: Roughly 7 inches long, 2 inches wide/high.
Pieces: 16.
Number of the Class: 2.
Other notes: If any of you reading this read my Epic (The Life of Toa Matas) on the Archives, this is the Egress class model.

Cavalry class
Type: Patrol Cruiser.
Size: Roughly 8 inches long,9 inch wingspan, 3 inches high.
Pieces: 14 forward section, 34 aft section, 58 total.
Number of the class: 1.
Other notes: Designed to split in half at the end of the Midak to provide extra support.

Falcon class
Type: Bird-of-Prey (Heavy Frigate/Escort ship).
Size: 8 inches long, 6 inch wingspan, 1 inch high.
Pieces: 59.
Number of the Class: 2.
Other notes: Most pieces, while NOT the largest, due to the high number of round blue hole studs and other superstructure components.

Imperial class
Type: Warbird (akin to a Dreadnought, or other incredibly heavy vessel).
Size: 5 inches long, 10 inch wingspan, 3-4 inches high.
Pieces: 38.
Number of the Class: 2.
Other notes: Largest vessel. Second model missing a single one-of-a-kind piece, and has a black right wing because I couldn't find a matching silver one.

Valor class
Type: Battleship.
Size: 8 inches long, 7 inches wide, 5 inches high.
Pieces: 39.
Number of the Class: 1.
Other Notes: The only thing keeping me from replicating this ship is a few crucial superstructure components that I only ever had one of.