As the rest of the team worked on a dry place to live, I worked to ensure that we'd all get to stay at least one more week. As soon as Tufi's message arrived, I'd scrambled to find good sketching material. The sand was too loose and it was a lot harder to pull tree bark off of a healthy log than it looked. Finally, I settled back on the materials I constantly relied on in this adventure: the junk we had won in the first challenge. I ripped a page out of a book and opened a can of shoe polish. At first, it seemed like finger-painting would work just fine, but the page ripped and my nerves were going wild whenever the polish got under my nails. I glared around the forming campsite, which by this time looked more like a fort. Grabbing up a stick, I frayed the end to make a horrible excuse for a paintbrush. But it worked. I settled into "painting". When Arpy and Bfa got back with a huge Lava Ape, Makaru started adding a tower and the ape dug a moat. I growled quietly and revised the drawing as best as I could. Sumiki had actually found berries that didn't explode and mashed them up, so that color could be added and (hopefully) make the drawing more distinctive. When it was done, I sneered at it. It wasn't just right. It needed some fancy additions. Like driftwood. Which I proceeded to find and nail the drawing to, even though there weren't any nails around so how even did that happen. Also I'm not sure where the Terminator Two font came from, but I can say that Kakaru didn't inherit his MS Paint Powers from his father.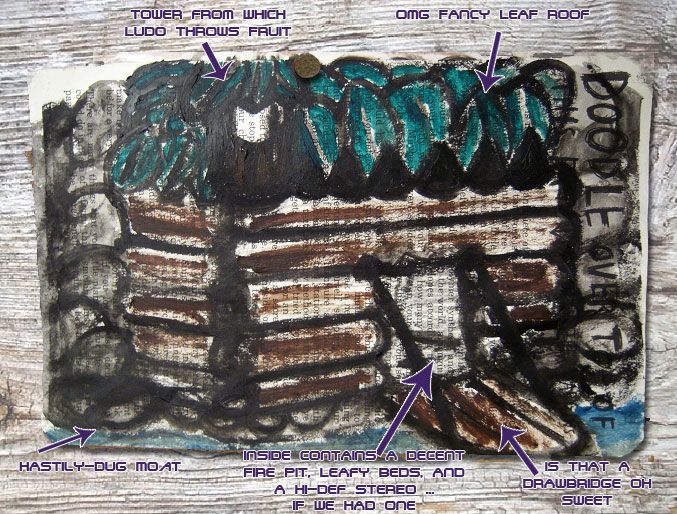 I blinked at the finished product. Tears came to my eyes, but I wasn't sure if they were from pain or ironically non-ironic joy. If all else failed, I could sell it on Etsy, anyway.
Edited by Hahli Husky, Aug 22 2013 - 02:54 PM.