Colx, Melna, and Helios are all BZPRPG characters created and played by Gyro Gearloose (Geardirector).  These three gravity elementals form the Gravity Trio, a group of friends who live and laugh on the island of Mata-Nui.  In honor of the awesome-sauce that Gears lavishes in his posts I wanted to draw the trio all together.  At first I was going to draw them in a sweaty gym posing for the camera.  Then I decided a summer beach party would be more fun.  Why not make the beach party for three rough warriors turn into a sparring session in the sand?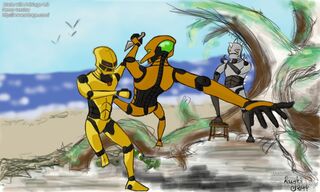 (Click image for full resolution.)
My apologies for several things, especially the hands.  However, I believe it's impossible to get better at drawing something without actually drawing it so...  Hands are what they are until my skill has improved from drawing them hundreds of times. XD  Comments and critique are always appreciated.  I really do take into consideration everything you say.
 Ciao for now! ~Kughii