Beating drums create a deafening roar through the jungles of Le-Wahi. Shrill, melodious flutes meet them. The two instruments intertwine into a beautiful rush of music. And yet, if you could see the field they are played on, you would not think so. The destruction being caused by the playing of those is easy to see on the bloody plain. Onu-Koro and Le-Koro are at war...War, I say? Indeed, though unlike war that most beings would immediately call to mind. Swords and axes are of no use here. Shields and armor of the conventional sort are useless. The weapons of choice are instruments. Massive earthen drums blasting deafening booms over the field. Long flutes of wind screeching death...Death is the art accomplished by this. You are no doubt wondering as you read this warning how music could be so vile, so bloody, so deadly. It is no simple music. The Matoran use their inner elemental strength combined together, with the help of any available Toa, to create these tools of war, these instruments of evil. The battle fields are more than just fields. They are three-dimensional plains filled with hills and cliffs and platforms and rivers and rahi of music...Music is our bane. The once sweet melodies played to soothe nerves now tear them to pieces, the sounds of joy used to brighten spirits now cut through souls. Everything involving a rhythm is filled with fear...Fear is the only emotion that I can display. I try to stop the madness. I try to stop the needless bloodshed. My entire rag-tag faction is trying to stop this madness. But the ones who realize this insanity are few, and the number rises and falls like a song itself. We will not fight by their methods. We won't fight using physical weapons if we can avoid doing so...So, this is my warning: Enter this cursed land at your own risk. Mata-Nui shall never be the same with or without you, but help would be welcome. The sheer fear of this apocalyptic noise is enough to stop a heart's beating...Beat and Rhythm"Our death is just a note away. We must stop this terrible devilry, or face the end of civilization."The antonym of all that is noble, good, just?Music.For time out of mind it has been used for many different purposes. A soft melody could soothe the nerves or lull a crying child to sleep. A joyful tune could lift one's spirits or signify a victory. A mournful song could bring the hardiest of warriors to tears.Indeed, the wonder of music has amazed generation after generation. The art of playing instruments has been a well-kept and greatly-loved tradition. It has captivated the old and the young since it came into existence. Yet in despite, many things good become terrible tools of evil.It is a sad happening if that is the case. The formerly loved can become a taboo so great that even those that use it fear to speak openly of it. Music fell into this unfortunate position. How could anything so wonderful become so vile? The answer is painfully simple.A harmless spore of mold grows into a foul poison over food, destroying its worth. Thus was the case of this. A great toa musician of Le-Koro known as Sargune experimented with using music combined with elements to create living music you can see, touch, and still hear. He succeeded to a degree, becoming the most accredited artist of the time.Sargune's elemental music took much practice to even begin to use properly, and even the toa himself had to concentrate ridiculously hard and was always tired after playing. Yet he kept using it, and the entirety of Mata-Nui became enthralled by the astounding phenomenon. Still, he never was able to figure out how to better control it, and he could produce no more than simple shapes.That was the spore, making way for the infection. Matoran - and indeed even toa - of black hearts experimented further, seeing the extent of which this wonder could be used. They found out the deathly power of what is now known as War Music.War Music takes Sargune's principal of element-music combination and enhances it to the point where it can be easily controlled and formed into practically anything. As long as a toa is present, it is extremely easy even for matoran to use. And even if there are no toa to help, War Music can still be used effectively.But they didn't stop at just making it. They spread the mold over the continent, infecting the minds of the villagers. The villagers didn't like how their neighboring Koro did this or that. And now they were super powerful and could kill the others. The tempers rose as each Wahi and the Koro within was threatened by their neighbors.It was obvious that war would soon break. Thus, five of the six Koros prepared for war. Each soldier learned how to use War Music. The villagers of both air and stone took a liking to instruments of wind-like sounds, the higher pitched for the former and lower for the latter. Earth matoran and toa chose massive instruments of concussion. Ga-Koro took to hydrophones and Ta-Koro to instruments of keys or chimes.A small fraction of these Koros were against War Music entirely. They fled and took refuge in Ko-Koro and Kini-Nui. These named themselves the Dissonance. Being lovers of peace, uninterrupted by most noise, the Ko-Matoran readily joined this blooming faction. They devised ways to fight against the Tribes of Rhythm, using weapons and armor such as vacuums, sound-absorption padding, and elemental disruptors.The war went well for a period of time. The Dissonance took great advantage of the fighting Koros, devastating armies already locked in combat. Ground was steadily gained, until they had roughly a fourth of each Wahi. Discord, the leader and creator of the flourishing faction, was leaving no room for the Tribes of Rhythm to survive.Eventually a weak attempt for peace was created, known as the Toa Council. Though it was originally created to end the war, it quickly turned into a meeting ground for alliances to be created and broken, along with possibly trading plots of land or other things such as that. The Toa Council is one of the main reasons that the Tribes of Rhythm finally began focusing upon their main threat, the Dissonance, instead of pulverizing each-other.Many of the Tribes of Rhythm were on the verge of defeat when this great blow was struck upon the Dissonance. The Toa Council created shaky alliances that, in essence, amounted to, "If we fight amongst only ourselves, we're dead." The Dissonance was mostly pushed back to Ko-Wahi and Kini-Nui. Thus the war was turned.And now it rages on, unlike any war ever fought. The Dissonance and the Tribes of Rhythm, all pitched in the War of Beat.In Short/Ice BreakerA guy found a way to combine elements and music to make something tangible and yet still able to be heard. Some guys took this and turned it into a weapon, calling it War Music. War broke, some guys from each Koro and the entirety of Ko-Koro created a faction called the Dissonance with a leader named Discord. The Tribes of Rhythm were hurt badly seeing as they were fighting both each-other and the Dissonance. But then the Tribes of Rhythm began to focus the war against the Dissonance instead of each-other, dealing a heavy blow.Mata-Nui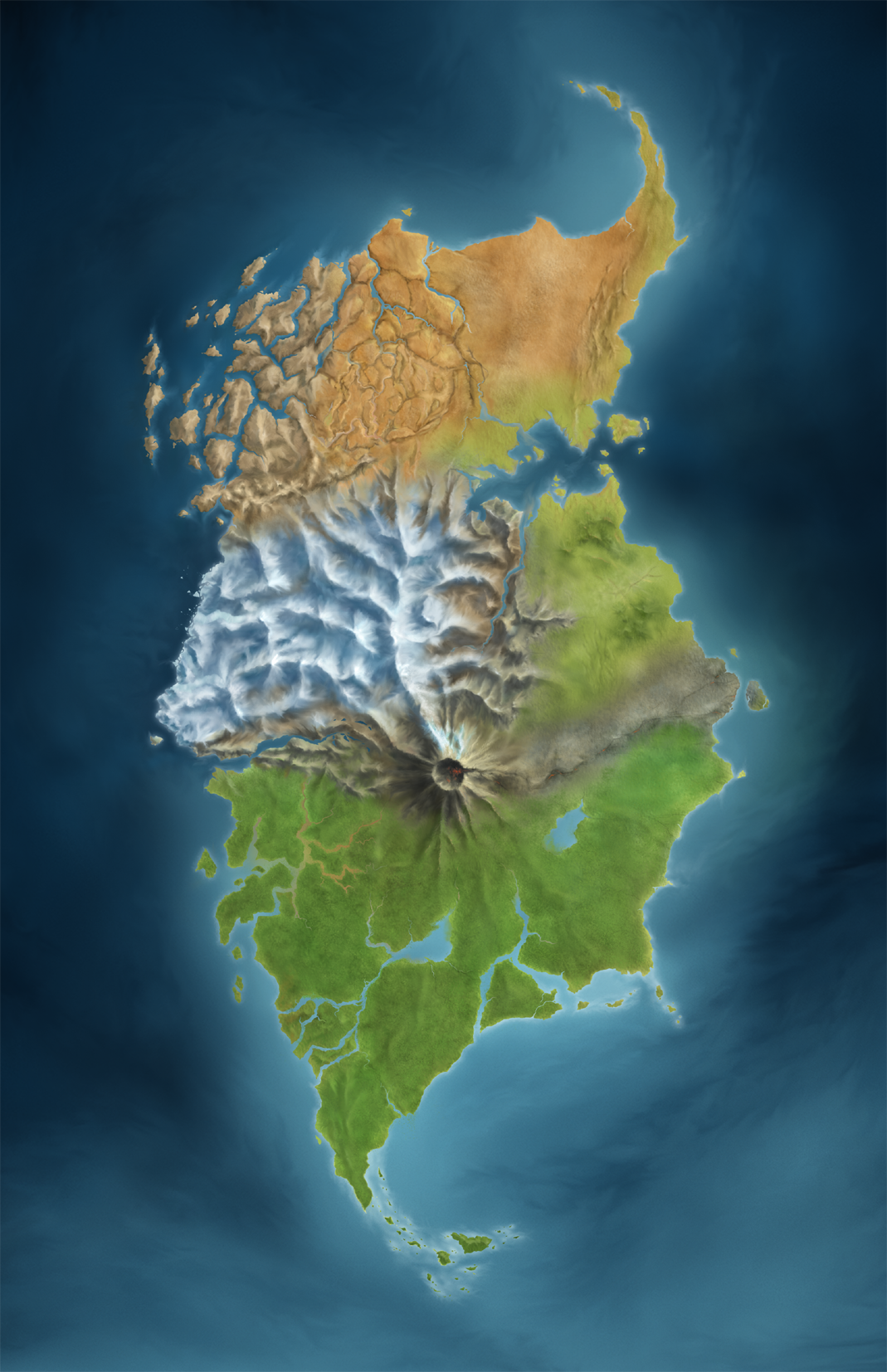 Mata-Nui, the island paradise. It isn't an island covering a giant robot's face. Just a beautiful, luscious, tropical island. All that, and pitched in a massive war. The War of Beat. Mata-Nui is split into six massive sections, called Wahi, each containing a village, or Koro. There is one Wahi for each of the basic six elements. Then, at the heart of the island, taking up a part of the great volcano Mangai, is the former temple of Kini-Nui.Each of the six Wahi (sans Ko-Wahi) is controlled by one of the Tribes of Rhythm. Le-Koro is the main village in Le-Wahi, more like a towering city built of wood and vine. The massive village stretches through almost the entirety of Le-Wahi itself. Tones of trumpets, flutes, and tubas ring through the woods almost ceaselessly as its strangely merry inhabitants constantly war.War is their life. Without it, the Le-matoran would feel useless, empty, with no joy. They find happiness, enjoyment, and fulfillment from murder. Still, not all are evil, murderous maniacs. But Le-Wahi is one of the deadliest, most unreserved areas of Mata-Nui. If someone isn't allied with them and he is in their border, he had better hope that he isn't discovered.Ta-Wahi consists of a large part of Mangai itself. Ta-Koro sits around the mouth of the volcano and even inside the massive rock formation. From massive bells to organs to simple wind chimes, you can find a variety of instruments. The matoran are a generally easily tempered and quick-to-action group, yet they are quite strategic and relatively rational.Despite their tempers, the Ta-matoran really are quite amiable and fun. That is, if whoever they meet isn't against them. In that case, unless they find an especially merciful villager, that unfortunate matoran should be prepared to meet a cacophonous, fiery death.Ga-Wahi, containing Ga-Koro, is mostly grassland and water. The toa and matorans' huts mostly sit atop massive lily pads in the water. Only a select few of their buildings are built on the land. The Ga-Koronans have a massively large advantage at their home due to their genre of War Music, hydraylophones, using great amounts of water. Though they can carry water with them and draw it from the earth and vegetation, they usually only fight on the coasts of other Koros.The Ga-matoran have quickly become hardened warriors, losing much of their former peace, happiness, and comfort. However, compared to the other Tribes of Rhythm, they are still likely the easiest to meet without being killed.The largest section of the island, Onu-Wahi, is not on the surface itself, but is completely subterranean. Indeed, saying Onu-Wahi and Onu-Koro is synonymous, for they consist of a huge network of populated caves and tunnels. To anyone that doesn't live there, the endless paths and caverns would quickly become a twisting, winding prison. The citizens generally use slow, deliberate patterns in warfare, their great earthen drums pounding in deadly strategies. It is almost impossible to prepare for and invasion by them, seeing as they can break out of the earth right under a village.The Onu-matoran have changed little during the war, due to taking the smallest part in the War of Beat. In fact, if a matoran from the outside were to enter with no seeming threat, he could mingle just as easily as ever. While in their cities, the citizens show no sign of a war happening. They seem neutral to the world, defending themselves and attacking only when they must.Taking the northern section of the island is the desert of Po-Wahi, containing the small village of Po-Koro. The sands and stones constantly move with the lilting tunes of a violin or the melodious playing of a piano. Any low-pitched brass instrument imaginable can be found in this place. The Po-Koronans are quick and near-reckless in most of their strategies.Second only to Le-Wahi in brutality, Po-Wahi's inhabitants are extremely destructive in all their battles. If a wall stands before them, they blow a hole through it. If an army of matoran stands in front of them, they blow a hole through that army. They stop for nothing, having only a care for themselves.The first and larger territory of the Dissonance is Ko-Wahi, with the lofty city of Ko-Koro. The village sits on the slopes of the towering mountain by the name of Ihu. The bone-chilling cold of the sheer mountains makes an amazing natural defense. The Ko-matoran strive to keep the delicate slopes from the influence of the War Music, as one powerful blast could trigger a massive avalanche. This does, however, provide another natural defense, as invaders risk getting themselves buried in the cruel ice.Kini-Nui, in a valley near Mangai, has been turned into a massive fortress by the Dissonance. It is shaped like a castle with smooth, towering, black walls and seemingly no entrance. The faction keeps watchful guard. Never a song is sung, never a tune struck. Despite this, the Matoran and Toa alike are not all gloomy. They find other ways to entertain themselves. A strange fact is that Onu-Koro is unable to attack from below due to some type of impervious stone.The Dissonance is the resistance force. They are the antithesis of the Tribes of Rhythm. These are the matoran that recognize the evils of their former brethren and have shunned them. The Dissonance aims to destroy the evil of War Music. However, there are those that, of course, have joined for the sake of being on the side that they believe will win.
Character CreationHere's where you finally get to the part you've (hopefully) been waiting for. Where you come in! Copy the blank profile, paste it into a post in the profiles topic, and you're on your way!
Name: (Be creative. No Tahu, thetoa3, Bob, etc.)Gender: (Male, Female)Faction: (Dissonance, Neutral, Tribes of Rhythm [specify which])Species: (I'd like to keep it to matoran, toa, turaga, and possibly differing species of rahi.)Element: (One of the main six.)Preferred Weapons/Tools: (No Epic Sax [of Doooom], please. Kanohi go here.)Appearance: (Pic and/or description.)Bio: (A decent-sized paragraph or two describing your character.)
Here's the blank profile:
Name:Gender:Faction:Species:Element:Preferred Weapons/Tools:Appearance:Bio:
Non-Player Characters (NPCs)
Name: DiscordGender: MaleFaction: DissonanceSpecies: ToaElement: AirPreferred Tools/Weapons: An object that looks like a shofar (ram's horn) but sucks in War Music and converts it into elemental blasts.Appearance: Discord always wears a cloak, though strangely it seems not by choice. It seems melded with his body, yet still flows and moves like any other cloak.Bio: The solemn leader of the Dissonance. Discord is, unlike your typical mysterious being, actually a great guy with which to have a conversation. But much like the stereotype, little is known of his background.
Name: Toa CouncilGender: Letrin, Onuraf, Taxuth, and Pokare are male. Gawea and Kora are female.Faction: Tribes of RhythmSpecies: ToaElement: Each of them wields one of the six main elements.Preferred Tools/Weapons: Each uses a weapon of his or her own Koro.Appearance: All wear elaborate armor, corresponding with their elements and genres of War Music (or resistance of said music, in Kora's case).Bio: A loose attempt at keeping the War of Beat from turning into a bloody massacre, the Toa Council consists of the leader of each village. Letrin is the jolly leader of Le-Koro. Gawea is the cool, calm leader of Ga-Koro. Onuraf is the solemn, rarely outspoken leader of Onu-Koro. Kora is the cold, calculating leader of Ko-Koro; she takes part in the council to try and bring peace . Taxuth is the hot-tempered leader of Ta-Koro. Pokare is the quick-witted leader of Po-Koro.
Important Things• All BZP rules apply.• Use IC and OOC while posting. Example in Reference section.• Please, do not God-Mode. Things that fall in this category include making yourself defeat a giant army single-handed, murdering a single enemy in one simple blow, never getting hurt in a battle, landing a severe auto-hit, and many other instances like these. This includes the "Stormtrooper syndrome" which basically implies that enemies are pushovers. They arent. Your enemies are as good as you are. You can mow them with your symphonies of fire or assassinate them with your notes of rock, but always keep in mind to have common sense.• Alright, seeing as everyone either can use powers fit for gods or use things that can destroy these powers, god-modding is hard to avoid. But it will highly depend on how you RP. For example, I say, "Toa Onuraf charged his earthen powers and shaped them into a massive bass drum. Then, using the powerful beat from it, he threw Letrin across the field into a massive tree," cool. But, if I say, "earth toa guy uses earth to hit air toa guy and slam him again and again against the ground breaking his back and knocking him out," then no. Just no. Again, use common sense.• Bunnying/bullying is wrong. Don't do either.• Don't make your character "high and mighty" above everyone else.• Kanohi that are not allowed in this RPG include but may not be limited to: Kraahkan, Avohkii, Vahi, Ignika, Olmak, Mask of Possibilities, and the Mask of Creation. Limited masks include the Tryna, Mohtrek, Olisi, and the Mask of Clairvoyance.• Feel free to be creative with instruments and masks. If you have a reasonable idea for a new type of whatever then heck, go ahead and try it.• Only the original six elements are allowed. This may change, but for now it's this.• Feel free to have as many characters as you want, as long as an army made by you doesn't flood the profile topic.• It is highly suggested that you keep your grammar and spelling in check. srsly bro ;/ no un wntz two red tis,GM: 1) Game Master. 2) God-Mode.War Music: The elemental music used by the Tribes of Rhythm. It can be formed into anything imaginable by the user.Tribes of Rhythm: The Koros using War Music.NPC: Non-Player Character.PC: Player Character.Bunnying/bunny: 1) Controlling people's chars. Just a simple stare or something mild like that could be overlooked. Maybe even making them block. But making them attack someone (or something such as that) without permission is simply too much. Don't do this. 2) A small rodent/lagomorph, usually gray, black, white, or brown in color. Quite cute, has long ears and large feet, is especially fond of carrots.IC and OOC: 1) In Character and Out Of Character. 2) For example:Onuraf/Fighting Letrin in the Outskirts of Le-WahiIC:Bringing a shield of sound over his head to block the arrows of sonic air, Onuraf charged his earthen powers and shaped them into a massive bass drum. Then, using the powerful beat from it, he threw Letrin across the field toward a massive tree. To follow up, he flew toward his opponent upon a powerful burst of sound, ready to slam into the toa of air at full force.OOC: Hey Zippidy-doo-dah, want to join me?Toa of Dancing - GMCo-GMs will be added as neededThe Co-GMs (if any are enlisted) have the ability to punish and reward you, as long as the action is approved by the GM. If it's something that needs to be addressed immediately, however, they can yell as loud as they wish and punish you. The GM himself (me, ToD) can dish out anything he believes he sees fit. Immediately. If not sooner. So behave and get rewards. =)ThanksThank you to anyone who has helped me with this RPG or with becoming a part of the RPG Forum. Without you guys, Beat and Rhythm would never have come around. Though I'd like to specifically thank a few of you here. I'd like to thank The Power that Is and Exo-Fat. TPtI has most likely scolded me the most of anyone I've ever RPed with. Both have helped by previewing my RPGs in the past, with Exo-Fat doing so to BaR. He's also been a great friend. Thank you Koname, Xeriak/Soylent GreenWhatever, TPtI (again), etc. for creating or helping run the first RPG I played in, A Midnight Grey. I thank the players of City of Steam. I thank the Indie game developers who made games such as Audiosurf, Beat Hazard, etc. I again thank all of the RPers that have interacted with me throughout these more than three years on BZP.
Edited by Toa of Dancing, Apr 01 2012 - 04:48 PM.