Hello BZPower!My name is EqualsN, and I have had a long history with Bionicle. Since I first found out about it when I was 10, and now over 10 years later... It's no exaggeration to say Bionicle has been a big part of my life!Since 2001 I've been collecting every set I could, until around the end of 2007 when I could no longer afford it. And I'm proud to say that--excluding playsets and misc. extras-- I've just about gathered a complete collection of sets from 2001-2007! I would have loved to go hunting online to complete the entire line from 2001-2010, but sadly I can't carry on this quest any longer.I have a new dream now... and in order to reach for our dreams sometimes we have to make sacrifices. I never would have parted with my collection, if I could help it. But I think... if I'm giving it up in exchange for this one wish, it is worth it to me.It's like saying goodbye to my childhood. It's hard to do it, but deep down I know it's the right timing. Time to let the past go and see what the future has in store. Besides, Bionicle will always be in my heart! So, with that I ask you to please give these sets a good new home! I would love nothing more than to make someone out there just as happy as I was when I got these sets all those years ago!---

About Me

I've been a member of BZPower since nearly the beginning! I've followed the site since the very first BBC! I've never been one to participate in communities very well, but I've always loved this site and of all the places to offer my sets, what better place than here?I've assembled the sets and made sure I had all the pieces! I busted out my box full of instruction manuals and dusted off the containers. I even have disassembled boxes for the large sets, upon request. This is as complete a set as I can get it!At first I considered using another means to facilitate selling such as ebay, but ebay has not been kind to me lately. It's fees are especially outrageous.I realize that I am basically a stranger here on BZPower. I don't have many references, but what little references I have on ebay might count for something.You can view my ebay profile here: http://myworld.ebay.com/equalsnAll my pictures include my username. I ship everything as described, and as quickly as possible in the most effective packaging. Bid with confidence!--

AUCTION TERMS

- Auction duration:

Thursday, September 27 2012, Time of this post

through

Sunday, September 30 2012, 11:59PM PDT

- Payment through Paypal preferred. I require payment to clear BEFORE shipping!- Shipping costs will be paid by buyer and determined based on buyer location and package weight.
My pride and joy! RAHI and TURAGA shown are NOT FOR SALE!

The collection is split up into YEARS.

You bid on the year you're interested in. Bid on as many years as you like.I WILL NOT sell the sets individually!Bid in increments of $5 at least please!- All sets are 100% COMPLETE and include all pieces, unless otherwise noted by a star.*- INSTRUCTION MANUALS included for all sets. (Condition varies from good to fair.)- ORIGINAL PACKAGING included for SMALL and MEDIUM sets. (Condition varies from good to poor.)- ORIGINAL PACKAGING for LARGE sets are available ON REQUEST for most sets, but are usually disassembled/flattened. I will not include these unless you ask for it! They complicate the packaging process and increase shipping costs.

YEAR 2001
ALL 6 Toa Mata

Starting Bid: $658531 Pohatu8532 Onua8533 Gali8534 Tahu8535 Lewa8536 Kopaka(These are my spare Toa Mata. I can't bear to part with the rest of 2001. I'm sorry!)THE TURAGA AND RAHI SHOWN ABOVE ARE NOT FOR SALE!

YEAR 2002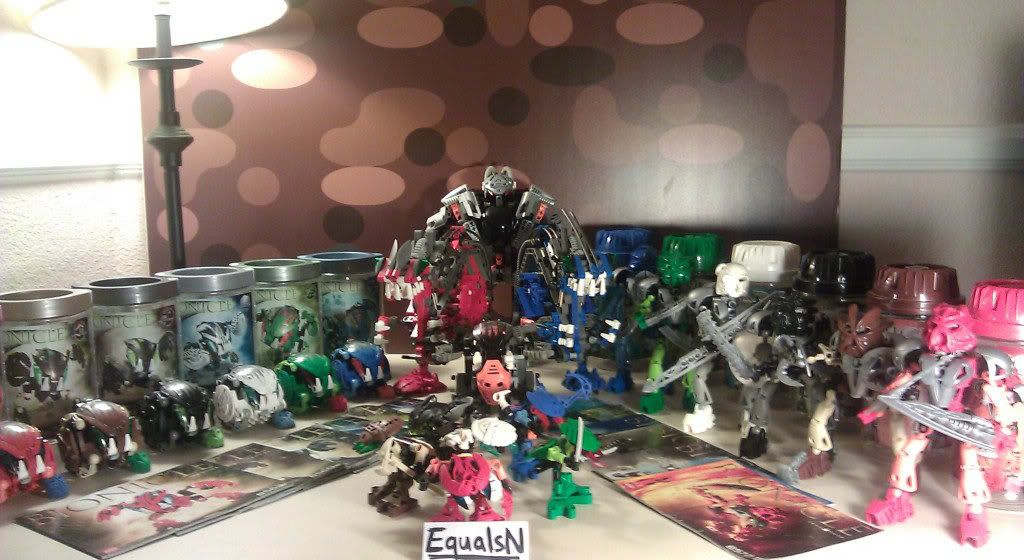 ALL Bohrok, ALL Toa Nuva, ALL Bohrok Va, ALL TitansStarting Bid: $225MEDIUM:ALL Bohrok8560 Pahrak + Za8561 Nuhvok + Za8562 Gahlok + Za8563 Tahnok + Ja8564 Lehvak + Yo8565 Kohrak + SuALL Toa Nuva8566 Onua Nuva8567 Lewa Nuva8568 Pohatu Nuva8570 Gali Nuva8571 Kopaka Nuva8572 Tahu NuvaSMALL:ALL Bohrok Va8550 Gahlok Va + Ca8551 Kohrak Va + Yo8552 Lehvak Va + Su8553 Pahrak Va + Su8554 Tahnok Va + Yo8555 Nuhvok Va + BoLARGE:ALL Titans8556 Boxor8557 Exo-Toa8558 Cahdok & Gahdok

YEAR 2003

<More pictures coming tomorrow>ALL Bohrok-Kal, ALL Rahkshi, ALL Matoran, ALL TitansStarting Bid: $225MEDIUM:ALL Bohrok-Kal8573 Nuhvok-Kal + Ja-Kal8574 Tahnok-Kal + Vu-Kal8575 Kohrak-Kal + Vu-Kal8576 Lehvak-Kal + Yo-Kal8577 Pahrak-Kal + Za-Kal8578 Gahlok-Kal + Za-KalALL Rahkshi8587 Panrahk + Shadow Kraata (Stage 1)8588 Kurahk + Shadow Kraata (Stage 2)8589 Lerahk + Shadow Kraata (Stage 4)8590 Guurahk + Shadow Kraata (Stage 1)8591 Vorahk + Shadow Kraata (Stage 5)8592 Turahk + Shadow Kraata (Stage 5)SMALL:ALL Matoran8581 Kopeke8582 Matoro8583 Hahli8584 Hewkii8585 Hafu8586 MackuLARGE:ALL Titans8596 Toa Takanuva & Ussanui8593 Makuta8594 Jaller and Gukko8595 Takua and Pewku

YEAR 2004

<More pictures coming tomorrow>ALL Toa Metru, ALL Vahki, ALL Metru-Nui Matoran, ALL Titans

Starting Bid: $225

MEDIUM:ALL Toa Metru8601 Toa Vakama8602 Toa Nokama8603 Toa Whenua8604 Toa Onewa8605 Toa Matau8606 Toa NujuALL Vahki8614 Nuurakh8615 Bordakh8616 Vorzakh8617 Zadakh8618 Rorzakh8619 Keerakh ** Keerakh: No instructions for this set.SMALL:ALL Metru-Nui Matoran8607 Nuhrii8608 Vhisola8609 Tehutti8610 Ahkmou8611 Orkahm8612 EhryeLARGE:ALL TitansUltimate Dume*:8621 Turaga Dume and Nivawk8623 Krekka8622 Nidhiki8811 Toa Lhikan and Kikanalo* Ultimate Dume: Includes Dume helmet.

YEAR 2005

<More pictures coming tomorrow>ALL Toa Hordika, BOTH Toa Hagah, ALL Visorak, All Rahaga, ALL Titans

Starting Bid: $225

MEDIUM:ALL Toa Hordika8736 Toa Hordika Vakama8737 Toa Hordika Nokama8738 Toa Hordika Whenua8739 Toa Hordika Onewa8740 Toa Hordika Matau8741 Toa Hordika NujuBOTH Toa Hagah8762 Toa Iruini8763 Toa NorikALL Visorak8742 Vohtarak8743 Boggarak8744 Oohnorak8745 Roporak8746 Keelerak8747 SuukorakSMALL:ALL Rahaga4868 Gaaki4869 Pouks4870 Kualus4877 Norik4878 Bomonga4879 IruiniLARGE:ALL TitansVoporak:8755 Keetongu8756 Sidorak8761 Roodaka

YEAR 2006

<More pictures coming tomorrow>ALL Piraka (3 sets + Irnakk), ALL Toa Inika, ALL Voya-Nui Matoran, ALL TitansStarting Bid: $275MEDIUM:ALL Piraka (3 sets + Irnakk)8901 Hakann8903 Zaktan8904 AvakIrnakk*:8900 Reidak8902 Vezok8905 Thok* Irnakk: Includes Gold Spine and all other exclusive pieces.ALL Toa Inika8727 Toa Jaller8728 Toa Hahli8729 Toa Nuparu8730 Toa Hewkii8731 Toa Kongu8732 Toa MatoroSMALL:ALL Voya-Nui Matoran8721 Velika8722 Kazi8723 Piruk8724 Garan8725 Balta8726 DaluLARGE:ALL Titans8733 Axonn8734 Brutaka8764 Vezon & Fenrakk8625 Umbra

YEAR 2007

<More pictures coming tomorrow>ALL Barraki, ALL Toa Mahri (Excluding Matoro), ALL Mahri-Nui Residents, ALL Titans (Excluding Karzhani)

Starting Bid: $275

MEDIUM:ALL Barraki8916 Takadox8917 Kalmah8918 Carapar8919 Mantax8920 Ehlek8921 PridakALL Toa Mahri (Excluding Matoro. R.I.P. Matoro!)8910 Toa Mahri Kongu8911 Toa Mahri Jaller8912 Toa Mahri Hewkii8913 Toa Mahri Nuparu8914 Toa Mahri HahliSMALL:ALL Mahri-Nui Residents8929 Defilak8930 Dekar8931 Thulox8932 MorakLARGE:ALL Titans (Excluding Karzhani)8935 Nocturn8922 Gadunka8923 Hydraxon8924 Maxilos & Spinax8939 Lesovikk ** Lesovikk: Lime arm and leg joints are cracked. I could not find replacement pieces on Bricklink in time for this auction.---And thats it!Happy bidding and please be specific about which YEAR you are bidding on!