So, I've been looking on Bricklink, and the prices for some of these pieces haven't been promising, so I thought I'd open up a new BST topic and see what I can get. One project I would like to try out it remaking the Chronicler's Company, and I only have Taipu's Pakari, so I need some of the other masks. I'd be open to trading certain things, just ask and I'll see if I have it and would be willing to part with it. So, the masks I need from the Chronicler's Company are:

Prototype Red Noble Ruru (EDIT: Also apparently in a clock set released in 2002, so some are not prototypes, who knew?). If you have this, I would very much like it, and would offer more for it.

Lime Noble Rau. Also more rare for some reason. Didn't it come in the masks packs?

 Mata Blue Noble Huna. Shouldn't be too hard to find.

Dark Grey Noble Matatu. Also in mask packs
Black Noble Ruru. Came in the Hafu set, I believe.
And while I'm here, might as well look for some other things I'll need soon.
Metru Chestplate in Mata Red and Tan. The red came with some Motorcycle set a while ago, and the tan with the Vorox and Thornatus.
Throwbot Foot in Dark Grey, Mata Red, and Yellow, x2 Each. Grey came from Millenium Slizer, Red from a Motorcycle and Hockey sets, and Yellow from the Muaka and another Hockey Set

 Technic Perpendicular Pin Connector in Mata Blue (x2-4) and Dark Grey (x4-6). These came from the 03 Matoran and a few other sets.

Metru Blue Great Ruru, from Karzahni.

Hero Factory Joint extendors


Hero Factory Shield with Clip in Black and Gunmetal, x2 each


 Nuparu Mahri Armor, Left and Right, in Black.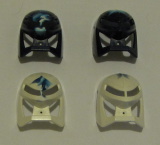 I've been searching for a picture for this one, but it's fine, because it's unlikely I'll ever get it. I've always wanted that white-Metru Blue blended Miru prototype. Just to get it out there.
  EDIT: Found a pic, it's the top row.
 Rahkshi head in Silver, from Roodaka
Torso from the Diver collectible minifigure.

Galaxy Patrol Collectible Minifigure

 Hazmat Suit Collectible Minifigure (and hose)

Ball Joints are also greatly appreciated, esp. light grey classic ones and black ones with the hole through them.
Please reply especially if you have the rarer items or a large number of these. I will trade or pay cash. I'll also probably update this page a bit more as time goes on and I find more things I need, but that's it for now.
Edited by Click, Apr 24 2013 - 05:51 PM.