Gendered LEGO Marketing — Then and Now
---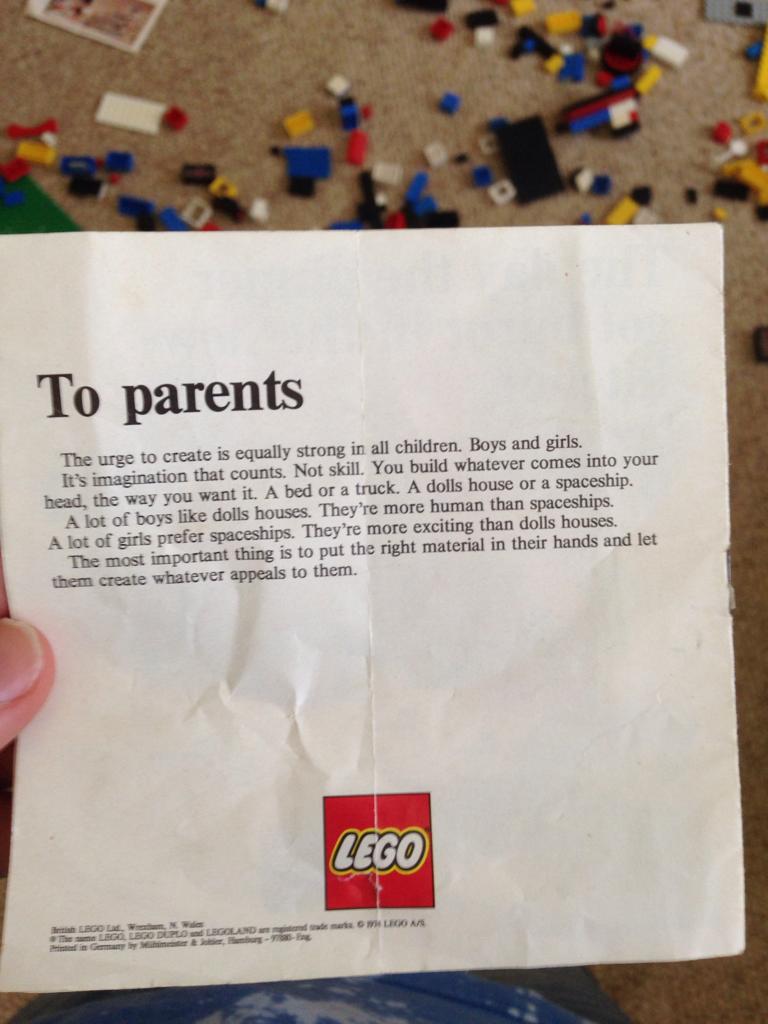 This amazing LEGO leaflet from the 1970s has been making the rounds this week. It's definitely worth a read. But unfortunately, some people have tried to spin this as "look how much LEGO has changed" when in fact that's at odds with the truth of the situation.
Believe it or not, the 1970s were not some idyllic time before the concept of gendered marketing existed. During the 1970s, the LEGO Group had two themes which had what could be considered "dolls houses": "Homemaker" (http://brickset.com/sets/theme-Homemaker) and "Building Set with People" (http://brickset.com/sets/theme-Building-Set-with-People). And with few exceptions, box art and catalog images for any of these sets would show GIRLS playing with the toys. Including an admirably progressive leaflet with these sets does not mean the sets were not designed or marketed to particular genders.
In reality, what I think this image shows is how much has NOT changed. LEGO still designs sets that anybody, man or woman, boy or girl, can enjoy. That doesn't mean they won't design or market certain sets for the audience that they expect to enjoy them most. But it does mean that a child can buy whatever set they want, and then use the parts from that set to build whatever they want, even if it's not the same thing that other kids their age and gender are building.
I think it's a bit of a shame that people still can't seem to realize this without a leaflet spelling it out for them.
11