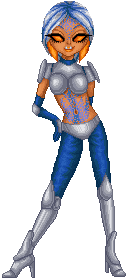 Base by Angy-Chan
So I've been dolling for what, almost nine years now? Though technically this one was made in 2011. But it's a remake of my very first doll ever, which was a design for a human Gahlok-Kal for some reason. I always liked the idea, but I always thought I could do better, y'dig? And it's nice to know that I've actually improved over all these years.
I can think of several things I'd improve right now (like the light sourcing and add some hue shifting on the metal and maybe make her armor less ridiculously impractical) but I still like this one. Maybe I'll try again in 2018.
Here's the comparison between 2009 and 2011 for those curious.