(Review topic--be sure to check this for other information. Also, that's where your posts go, not here.)Also, my comics.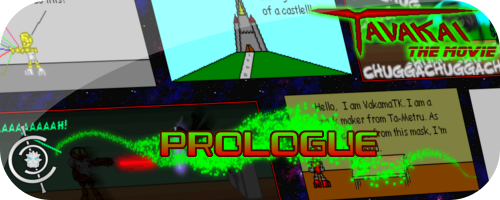 It began with a maskmaker. Or at least, the story told so far began with that maskmaker. It really depends upon which beginning you're looking at.The maskmaker, VakamaTK, lived in Ta-Metru. He was quite good at making masks, so much that another maskmaker, a Le-Matoran as it happened, accidentally gave himself a horrible eye injury in a fit of jealousy. Henceforth, that other maskmaker met ridicule and received the nickname "Jack the Magic Pirate." The name stuck, even used by that maskmaker himself, since he did not remember his real name. Humiliated, he quit maskmaking, instead deciding to give in to the name-calling and become a pirate--but that turned out to be another thing he wasn't good at.Some time later, VakamaTK began to be bored with maskmaking, and planned to go to another island to make comics. After a failed attempt to raise money, a mysterious being known as The Seeker teleported him onto a ship heading to The Comic Land. Once he reached his studio on the island, he began making comics and was quite successful. He made many friends in the business, and met a fairly large amount of guest stars.But Jack the Magic Pirate followed him. Headquartering himself at a large abandoned castle, the former maskmaker made several plots to take VakamaTK's life, but all that were implemented failed. Behind these, he had a somewhat larger plot--not to say that the others were a distraction, just that the larger one would take time to complete.It began as a simple side interest. He had heard of Energized Protodermis before--he came from Metru Nui, and just about everyone had heard the tale of the Toa's transformation into the Toa Nuva. Having almost no idea what the substance did, he set out to research it.It wasn't easy. Books on the subject were few and far between. He eventually gathered enough books, and came to find out that Energized Protodermis had more destructive potential than transformative.So he converted this side interest into another plot. If he found a way to submerge VakamaTK in Energized Protodermis, surely he would die--the chances were against him.But it wouldn't be easy. Most likely, the only way he could succeed is if he fired the Energized Protodermis at VakamaTK. He would need to develop a mechanism to carry out this task. As if that weren't complicated enough, he would also have to make it out of a substance resistant to Energized Protodermis's effects--and there weren't many.Finally, two years later, his plan was complete. He just needed an opportunity. When he lost both of his two minions in the same day, he realized he had practically nothing to lose, and decided to just go for it.Jack the Magic Pirate managed to corner VakamaTK in a locked room, then fired a strange silver substance at him from his mechanism.The wave that submerged VTK also took down the wall behind him, breaking open an entrance for his friends, who were desperately trying to get into the room. Fortunately for them, they were with The Seeker, who was able to create a force field to shield them from the substance, and later told the group that said substance was Energized Protodermis.
Edited by Tavakai, Oct 21 2011 - 10:10 PM.