By far my favorite personal character in the BZPRPG, Ishi Polzin - aka The Hapaka - has been a constant challenger to my writing and plot abilities from day one.  This was a fast sketch, mainly just to try and get down proportions and the move of his lava-eel scaled coat (which I was drawing while watching Sword Art Online for references).  The book in his right is Ahkmou's journal, the karambit in his left stolen from a would-be assassin who found themselves thrown off a train.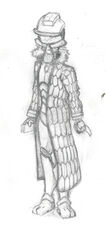 (click image for a larger version.)
This was done using a no.2 pencil (approximately HB).  Comment and critique most appreciated!  I will not tell you how many times I redrew the hands...