Prefacing this blog post, thanks to An/A Blade (or just Blade) for sending me her MH4U Demo code! I played it and I loved it, and that's why I'm here playing and gushing over this game. You're awesome!
Anyways, like I said, I'm playing Monster Hunter 4 Ultimate and loooooooooving it! So naturally I had to share the love with everyone else! I thought for a grand total of one minute and decided to do brief blurbs on what I think of all the monsters I've fought so far. I dunno if this could actually become a series cause there's a rather large amount of monsters to fight........
But for now, enjoy a highly unprofessional examination of every monster I've fought so far in the early game!
(note, for this entry and possible others, if the monsters have a confirmed gender, I will refer to them using the appropriate pronoun. If not, I'll use 'they', 'them', 'it', etc. Hope that's alright with everyone!)
Great Jaggi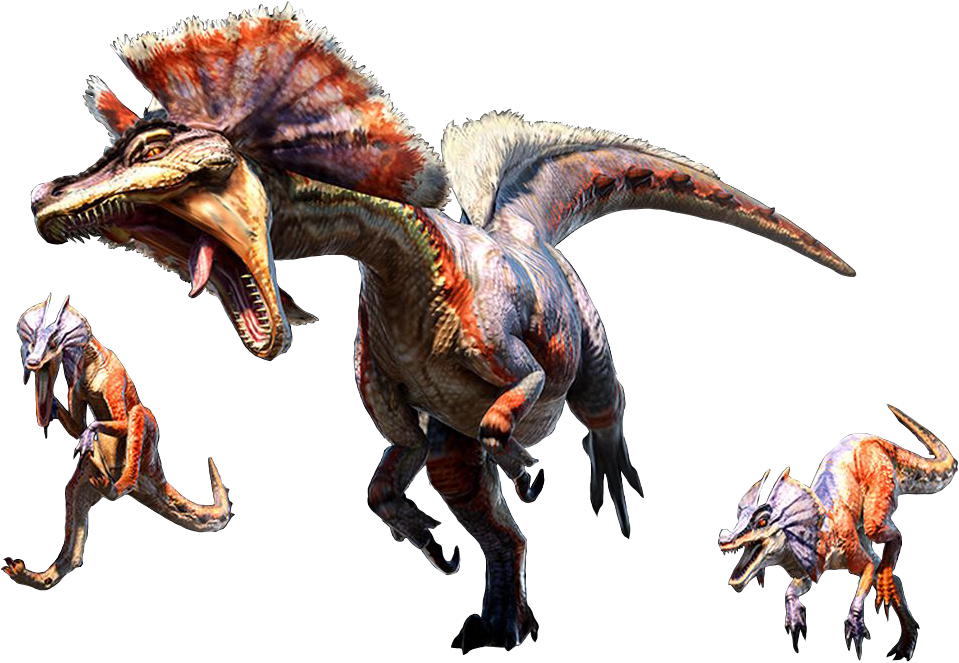 Oh look, it's the first big monster anyone fights. Let's get this out of the way, I don't hold any respect for him, and neither should you. Heck, there are 14 optional tutorial missions for all the weapons, and what's the monster they make you kill? The Great Jaggi. And for good reason, he's strong at first but when you start figuring out the game mechanics and get decent armor, the Great Jaggi becomes a non-issue.
That's not to say I don't like the little veloci-thingy though. He's actually one of my favorite monsters so far! There's just something charming bout it's tenacity in battle even if it's gonna get crushed..... I suggest whenever you fight him, you just take him out as fast as you can, and salute his corpse afterwards for effort.
Seltas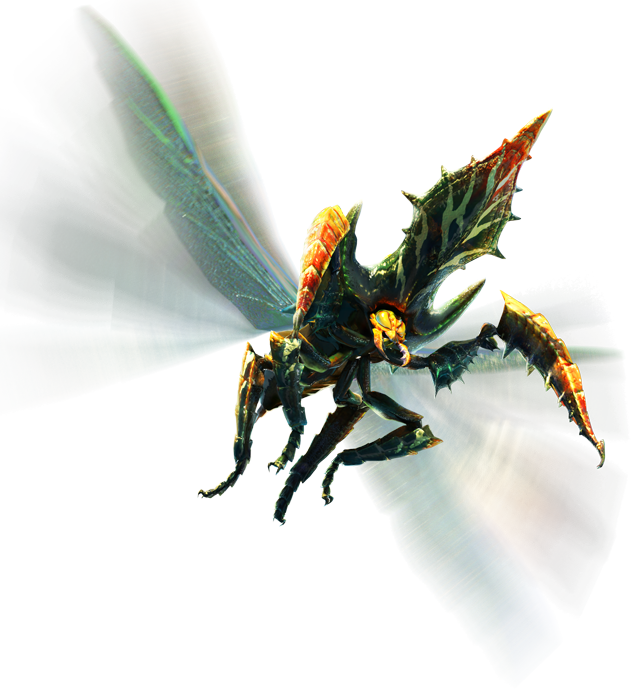 Now this guy still gives me a little bit of trouble. He's not really any stronger than the Great Jaggi, in fact, he might be weaker? I'm not sure. But those wings aren't just for show, he is nimble. Combined with the fact that the Seltas isn't that huge a target to begin with, I don't land as many hits per second as I would with other monsters. I spend the better part of the battle sheathing my weapon (I play Charge Blade if anyone's curious) and just running after it.
Uuuuunless he uses the flying ram attack into a wall, in which case I pounce and slash the heck outta him. But hey, fighting the Seltas is still quite a rush and overall this bug thingy is cool!
(Addendum: So my mentor advised me to use Flash Bombs on this and flying enemies. Turns out it makes them drop like a rock. So uh........ Oops. xP)
Kecha Wacha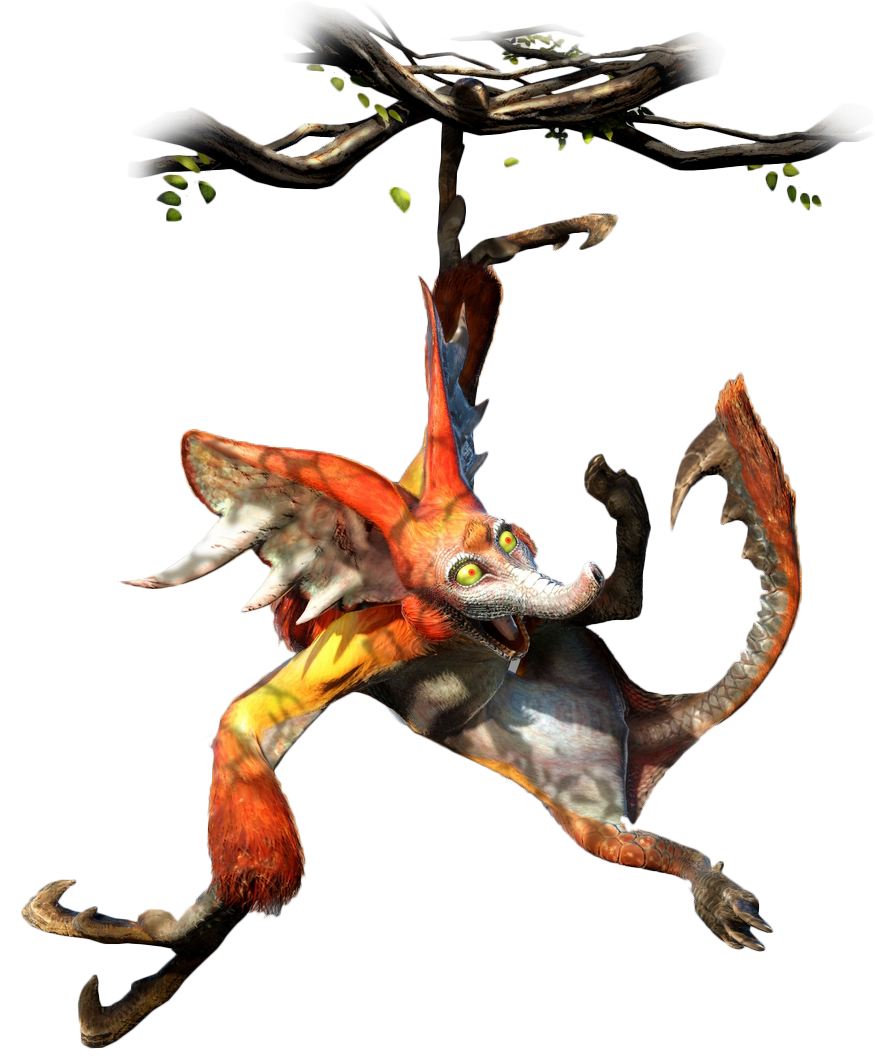 STUPID MONKEY ARGH I DON'T LIKE YOU AT ALL I MEAN LOOK AT THAT GRIN IT'S SO STUPID AND MAKES YA WANNA SMASH ITS FACE IN PLUS HE SNEEZES IN YOUR FACE IN THE INTRO CUTSCENE ARRRRGH
Okay besides looking smarmy and being gross, the Kecha Wacha is a fun monster to fight. It swings around certain areas, which would make it a tough fight.... Luckily throwing a well timed Sonic Bomb makes it drop to the ground in an instant. I'd abuse that strategy more if the Kecha Wacha didn't put its ears over its face at points during the battle, but eh what can you do. Their fighting style's actually pretty wild and erratic, slamming the ground and leaping from place to place and such. Not a bad monster for a noob to be fighting!
Velocidrome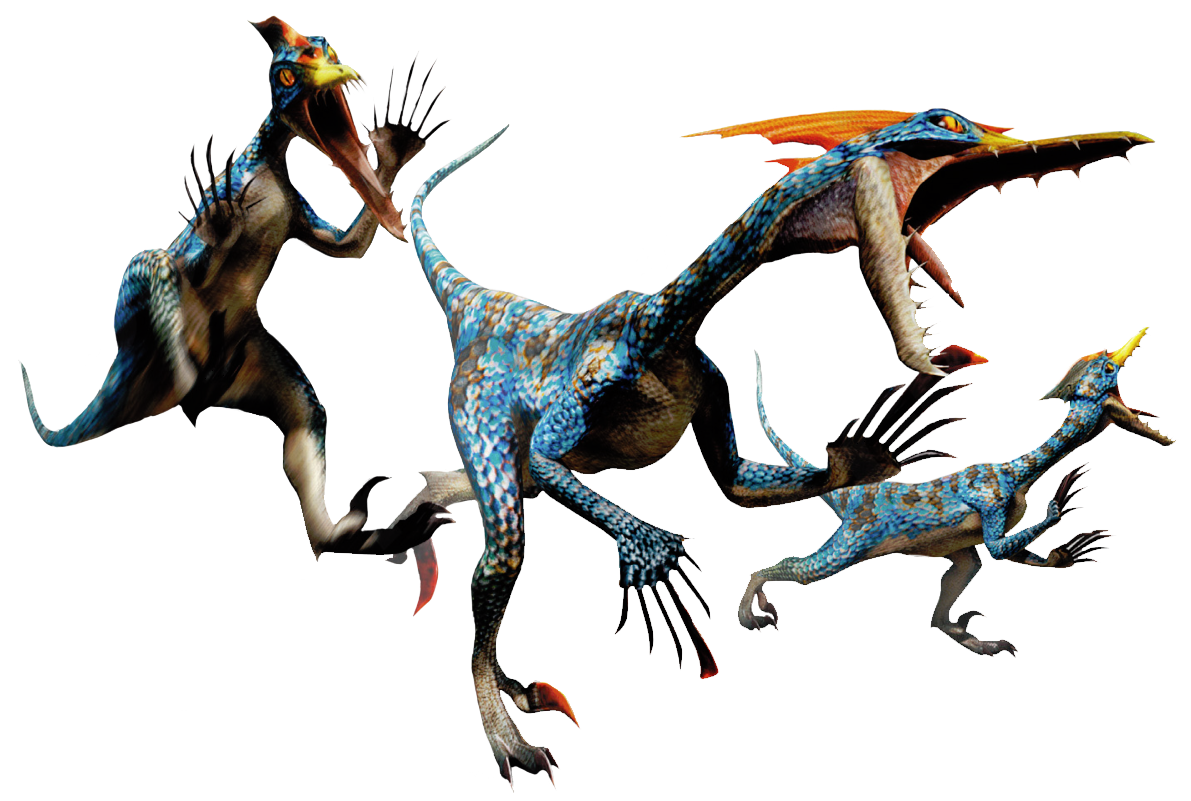 This thing is basically the Great Jaggi but faster and more powerful. It's also way more jumpy! Unfortunately they lack the charm the Jaggis do. I'm not sure how to describe it... But the fact they only appear during expeditions and online quests which leads to a lack of overall presence might be a contributing factor? I'm not sure.
Oh, and once while I was playing with Blade and another friend online, our connection was wonky when fighting this thing... And the Velocidrome proceeded to teleport across the arena. Constantly.
It was hilarious and scary at the same time.
Yian Kut-Kut
SEE THIS STUPID BIRD?! IT PECKS YOU AND SHOOTS FIREBALLS WHILE RUNNING LIKE AN IDIOT AND TRIPPING OVER ITSELF. THIS IS A STUPID BIRD AND I HATE IT.
THAT IS ALL.
(okay no actually it's silly to watch fight but surprisingly tough especially considering it's smaller than the Great Jaggi. I'd fight the Kut-Kut more but there are bigger fish to fry. =P)
Tetsucabra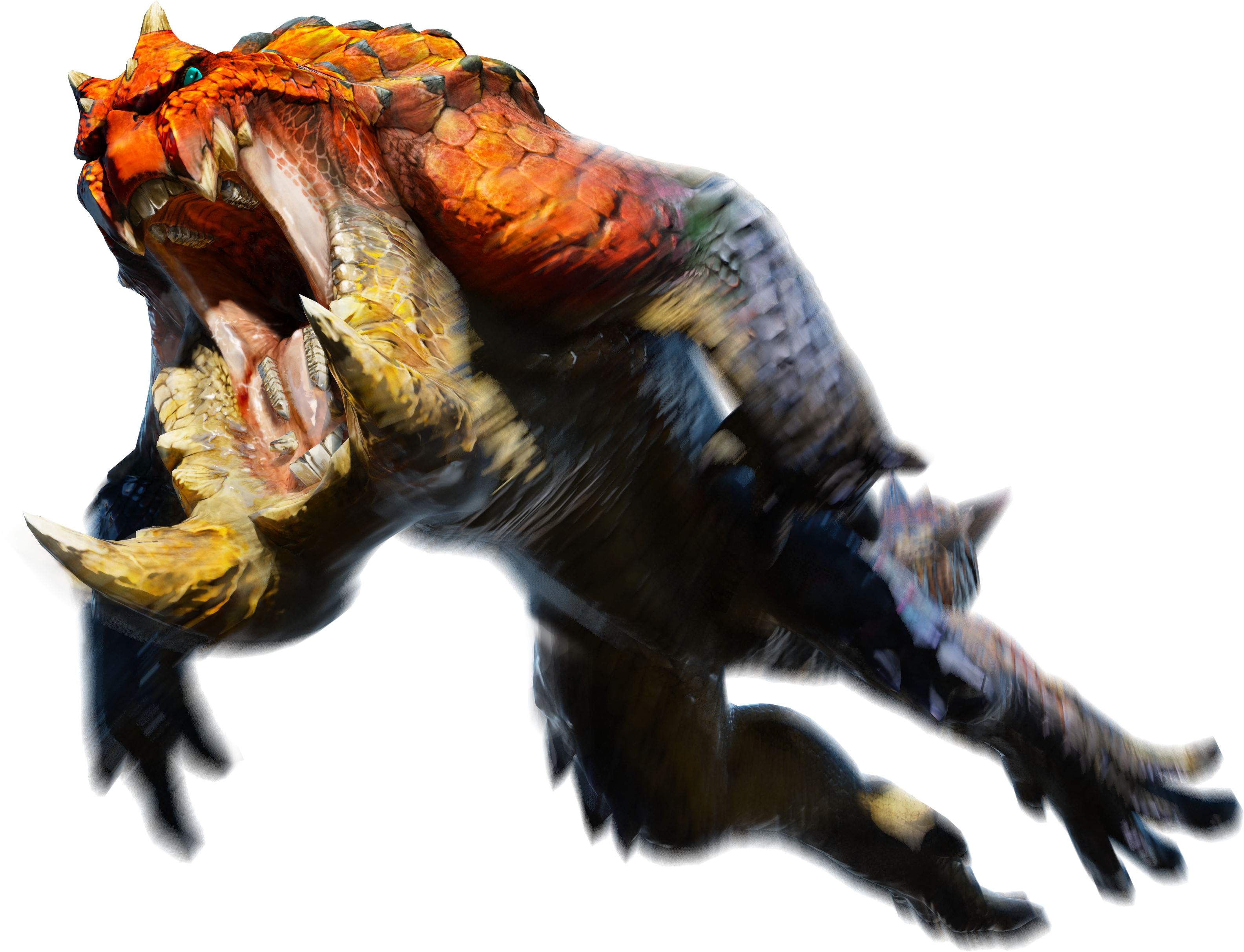 This is one of my favorite early game monsters. Part of it's the design, it just looks rough and ready to kill.... Not to mention its attacks and animations are actually rather brutal. The Tetsucabra digs boulders from the ground and smashes them with its tusks for crying out loud! And when you mount the monsters, it's the only one I've really seen outright try to flatten you under its weight!
Not to mention the armor made from this thing both looks cool and is incredibly useful for the early game! This is a cool monster!
Gendrome
This thing is basically the Velocidrome if it could paralyze. Not much else to say about it.... It's an alright monster I suppose.
Gypceros
THIS IS ANOTHER STUPID BIRD RAAAAAAAARGH IT ALSO GOES AROUND PECKING AND FALLING DOWN LIKE AN IDIOT BUT INSTEAD OF FIREBALLS IT USES ITS STUPID HEAD CREST TO BLIND YOU WHICH LEAVES YOU STUNNED AND IS ANNOYING
(I don't like this monster very much in case you couldn't tell. I do however, enjoy killing it!)
Nerscylla
I'm gonna be frank here, this is my FAVORITE monster to battle so far! It's not as nimble as the Seltas, but it's more nimble than the Kecha Wacha, and has some power behind its attacks to boot! The Nerscylla is also a tricksty little thing what with having multiple ways of incapacitating you, ranging from webbing to poisoning to straight up making you keel over and snooze. That's waaaaay more than the other monsters had so I'm always on my toes during the fight...... I love it! Maybe the fifth game will see more insect bosses...........
(also the normal Nerscyllas eat Gypceros so that's a +1 in my book!)
Basarios
At first my weapons kept bouncing off even at green sharpness so I thought the Basarios would give me a really, really hard time.
Then I realized its legs were weak enough to hit and that it actually did move like a boulder. Even though it fired fire lazors and charged, those didn't really hit me at all cause I saw em coming from a mile away. The only thing that ever really gave me trouble was the poison gas spewing thingy. Otherwise, this was a surprisingly easy fight to handle.
Then again this thing has an adult form so hopefully I have a more challenging fight to look forward to there...........
And that's that! How was this blog entry? Should I make more or not? Or does this suck and should I sulk away in shame?
I'll let you people decide on that!