362 replies to this topic
Posted May 02 2015 - 01:45 PM

The difference might not be noticeable at the first glance. :/
---
Posted Feb 03 2016 - 04:47 PM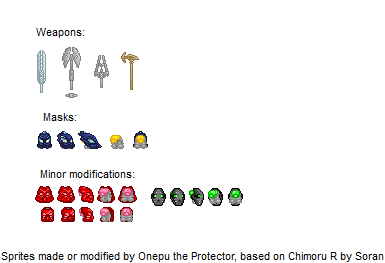 I sprited four weapons (well, I had shown you the Lerahk's staff before but deleted it) and made the Hau's eye shape more slanted and changed the mouth on Pakari.
Edited by Onepu the Protector, Feb 03 2016 - 04:49 PM.
---
Posted May 19 2016 - 12:09 PM
Let's get this thread up and running again, shall we. Have an inorganic Calix based on this 3D print by Keyblade87.
---
---
0 user(s) are browsing this forum
0 members, 0 guests, 0 anonymous users